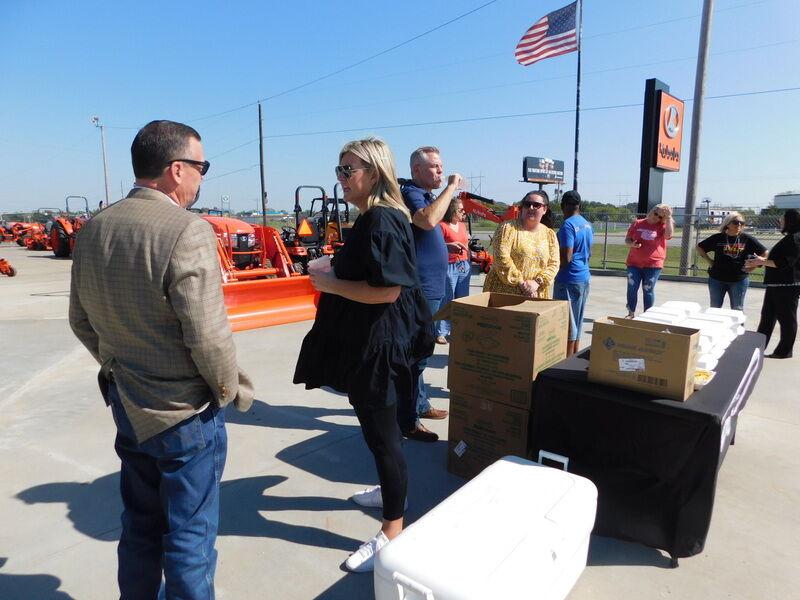 Ag Appreciation Lunch shines a light on the farming community | New
Farm promoters in the region didn't linger too long at Friday's Agriculture Appreciation Lunch, hosted by the Greater Muskogee Region Chamber of Commerce.
But that didn't stop the chamber from showing its appreciation, handing out nearly 120 packed lunches to Stewart Martin Kubota, one of the lunch's main sponsors. Room officials set up a table in the concession parking lot to hand out the boxes, which contained ham sandwiches, salad and fries from Runt's Bar-B-Que.
House Agribusiness Chair Cheryl Leatherman said agriculture "is one of the main economic means we have to survive in Oklahoma."
"We want to make this known to everyone," she said. "Not everyone recognizes the impact of agriculture on the community.
This is the second year that the chamber has opted for a drive-through event, said Corynne Jewson, chamber program director.
"Not only is this a concern related to COVID, but we have noticed that we are getting more involvement from the farming community because this is not a formal session. It is a quick round trip. for them, "Jewson said. "We are able to enjoy it even more by hosting a quick lunch or a drive-through event. "
She said it's harvest season for many farmers, so they might not have much time for a formal event.
The purpose of the room with lunch is to give local businesses, such as insurance companies, the opportunity to interact with the farming community, Jewson said. She said the chamber had received 120 responses to invitations.
Connors State College President Ron Ramming stopped by. He called agriculture "one of those foundational industries that is very important to Muskogee County and to all of us."
"I really appreciate the chamber's efforts to reach out and recognize the contributions that our farmers and ranchers and those involved in agriculture make to the local economy," he said.
House Speaker Angela Wilson called the lunch a success.
"They could come see our main sponsor and see what they have," Wilson said. "And that's a lot of their customers too, so it's been going really well. We also have a few of our sponsors here."
Several guests came out to talk to each other or enter the concession. Others crossed after collecting their orders.
Terry McKinney, a member of the House Agri-Food Committee, stopped in with his daughter, Madison, who is an active participant in Porter's FFA program. McKinney said agriculture helps young people learn responsibility and helps the community.
"Like the FFA program these children represent, there is a lot of community involvement," she said.