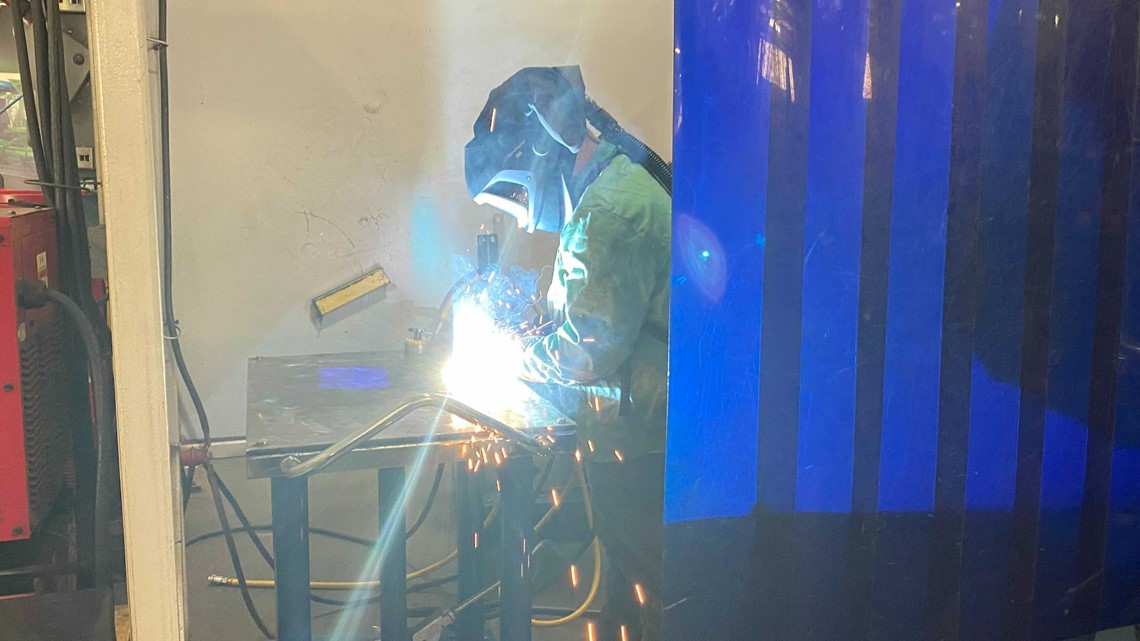 Apprentices at Deere and Co. received more than a welding lesson
Students who are part of the apprenticeship are paid $ 13 / hour, earn school credit, and are shortlisted for jobs at Deere and Company if they choose to apply
EAST MOLINE, Ill. – The largest Quad Cities company is investing heavily in today's students.
Deere and Company's learning program teaches not only the practical lessons needed to get the job done, but also communication skills that can be just as important to their future.
Most high school students spend the summer vacation relaxing with their friends, but not Garrett Castens and Daniel Sumner. They spend their summer gaining work experience through Deere and Company's apprenticeship program.
Daniel Sumner is a 17-year-old high school student at United Township and says he has "always been a practical worker". University was never something that interested him, instead, "welding really appealed to me, especially when something like that happened".
But the apprenticeship program is more than just a welding lesson. It's also a lesson in communication thanks to a new partnership with Iowa State University.
Emma Murray is a professor at Iowa State in the English department. His work is focused on communication. Murray has worked with students to become better communicators in the workplace and beyond. "Communication skills are so important because the welders here who are part of the program have a lot of power to improve the installation." Murray said. "They can give their opinion and make the workplace safer, more efficient and this leads to better compensation for all employees."
It was a welcome addition to Deere and Company's three-year program, which began when Deere and Company recognized there was a shortage of skilled workers in the Quad Cities metro.
"[We] in partnership with our local high schools. This allows us to develop this ongoing pipeline of skilled employees, "said Barry Neal, who works with Deere's Harvester Learning Program. Neal says it's also a way to help keep future generations in the Quad Cities rather than walking away. But recognizes even if students move away, they still need the skills to be productive citizens. "We pay high school students to come and develop their skills .. we focus on welding, but we also work on developing skills." Neal goes on to say, "We try to help develop people. in the Quad Cities " [area] high schools to be the best employees they can be, whether they come to work for John Deere or go elsewhere. "
As a bonus, students in the program are shortlisted for hire because they are "rooted in the John Deere culture," Neal said.
Students create a presentation that they can present to Deere and company employees, as well as their peers at school to raise awareness of the program.
Program participants are paid $ 13.00 per hour, receive hands-on training, learn communication skills, earn school credits for work, after completing 2,000 hours of work.
Garrett Castens, apprentice and student at Alleman Catholic High School, said: "I hope to take a journal of knowledge about the craft of manufacturing that I can take with me everywhere for the rest of my life.
The Quad Cities chamber claims to have more than 15 businesses in the region offering apprenticeships. For more information, email Mike Oberhaus at the Quad Cities Chamber by clicking here.