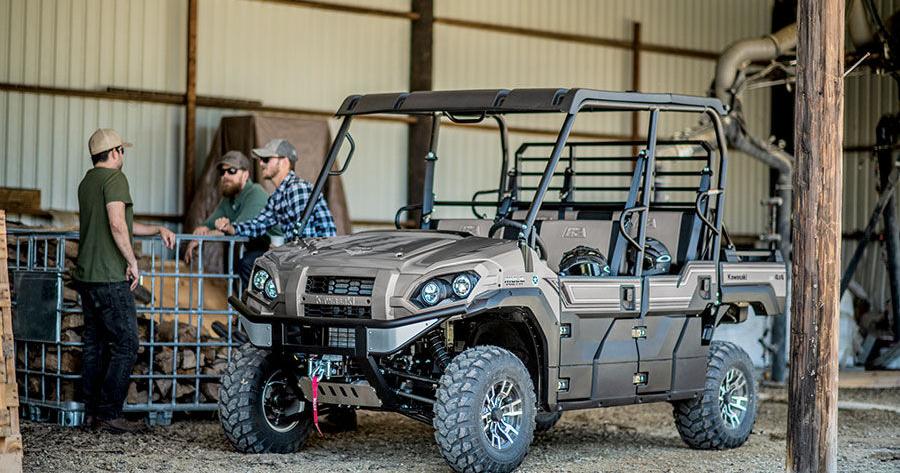 Commercial vehicles are getting smarter and more efficient | Equipment connection
If there's one piece of equipment that deserves an agricultural MVP award, it's the utility vehicle. It hauls your tools, drawbar pins and parts, helps fix the fence and round up stray cows, and hauls lunch and dinner to your harvest crew. It's hard to imagine a more indispensable machine.
And these days, you have more UV choices than ever before, as manufacturers continue to produce new and updated models with a wide range of innovative features and accessories – all with the aim of meeting the needs of ever-changing farmers, ranchers, hunters, recreational landowners and off-road enthusiasts.
Take the Deere Gator. Long known for its rugged, versatile and versatile personality, the Gator UV can now also play an important role in your precision farming activities.
For 2023, select full-cab Gator XUVs can be ordered AutoTrac-ready from the factory, paving the way for hands-free driving. Use it to set AB lines, flag obstacles, map boundaries, or perform grid sampling. Or attach a sprayer for precise applications with less overlap.
"John Deere is enabling the productivity gains that farmers have seen by using AutoTrac technology on their tractors and integrating it into a smaller, more agile machine – a Gator utility vehicle," said Maureen McCormack, implementation manager. in the Gator utility vehicle market. for John Deere.
These Gator UVs come from the factory with the necessary wiring harness and brackets to allow you to connect to a 4640 Universal Display or a StarFire 7000 GPS Receiver (which you probably already own).
The AutoTrac-ready option can be ordered on 2023 model year John Deere 835/865 cab units, including XUV835M HVAC, XUV835R, XUV835R Signature Edition, XUV865M HVAC, XUV865R, and XUV865R Signature Edition.
Kawasaki has also released details on the 2023 lineup of its popular UV Mule family. The Mule PRO FXT side-by-side—Kawasaki's top-of-the-line machine—now comes in six trim levels with seating for three to six passengers. An innovative Trans Cab system allows you to quickly and easily transform your Mule from two rows of seats to a single row, giving you more cargo space.
PRO FXT models feature a powerful 812cc 3-cylinder fuel injected petrol engine, smooth CVT transmission with
Electronically controlled 2WD/4WD and locking rear differential that provides extra traction when you need it in tough conditions.
If you do not need the additional seats available on the
End of the Mule machines, you might consider the PRO MX. This economy-minded side-by-side offers nimble electric power steering, a gutsy 695cc fuel-injected petrol engine and a comfortable fit for two passengers. For 2023, the Mule PRO MX Series will be available in four different trim levels to better suit customer needs.
And if you're looking for capability, capability and comfort, the 2023 Mule Pro Ranch Platinum Edition might just be your machine. Brush guards, headlight guards and a rear bumper are standard and help protect against knocks and bumps. The Pro Ranch Platinum also includes a Warn VRX 45 winch, quad-LED headlights, cast aluminum wheels and an underseat storage bin. Top it all off with deluxe leatherette seats, premium colors and badging.
American Honda also announced updates to its top-of-the-line Pioneer 700 midsize side-by-side, as well as the return of the popular FourTrax line of recreational/utility ATVs.
The Pioneer 700 builds on its heavyweight reputation with 23 model year updates that improve performance, increase comfort and provide more storage. Growers will also appreciate the available dump bed and refined handling.
The 700 will be offered in three different trim levels: deluxe, standard and an all-new Forest version, a top-of-the-range model offering premium features and pre-installed accessories. Each trim level can be ordered in a two- or four-person configuration.
And in case you missed it, Kubota boosted the appeal of its UV lineup last year with the RTV520, an updated gas-powered model offering new styling, more comfort and performance.
Offered in general purpose and deluxe configurations, the RTV520 features a Kubota 2-cylinder engine with electronic fuel injection for easier cold weather starts and more responsive throttle control. It also comes with a variable hydrostatic transmission for smooth and powerful acceleration, improved traction and handling.
"The RTV520 is the perfect utility vehicle for anyone who needs to get work done on their medium to large sized property and for commercial operators who need a reliable, quality utility vehicle," said Jacob Mandoza. , senior product manager at Kubota, commercial vehicles. . "The RTV520 is easy to use with confidence, offers a quiet and comfortable ride, and offers durability at a great price."
With such a wide range of new and updated UV/ATV models – packed with technology and performance-enhancing features – there's never been a better time to take a test ride.
Rick Haun has over 35 years of experience writing about agricultural and industrial equipment, much of it with John Deere. He resides in Shawnee, Kansas.