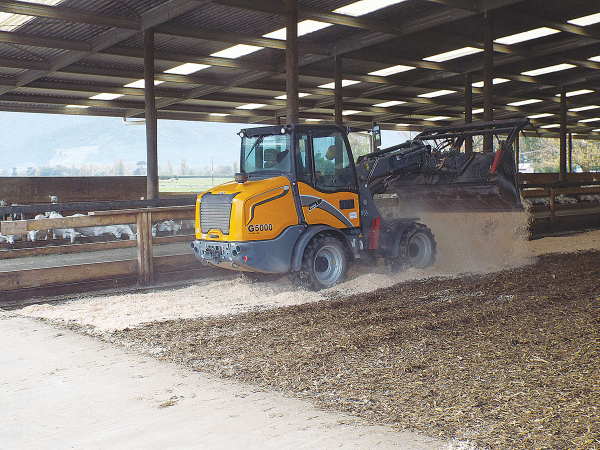 Giant is standing on the goat farm
A Dutch giant plays such an important role in Schuler Brothers' Te Aroha West goat farm that the head breeder says: "If I considered a job on another goat farm and they didn't have a goat farm. giant, I would say it's but no thank you ".
The bright yellow Giant 5000 Tele in question is reasonably compact, in the form of an articulated wheel loader with a telescopic boom, tipping measures at 4.5 meters long and 1.46 meters wide, with the needle on the balance touching 5.2 tons.
Widely used to help manage the 750 milking animals, the machine offers a lift capacity of up to 2.8 tons and a lift height of up to 4.35 meters with the boom fully extended.
The articulated layout around a central pendulum joint means the machine is very stable, while providing excellent maneuverability in the tightest spaces, meaning loads can be placed precisely where they are needed.
Power is provided by a 75hp 4-cylinder Kubota engine that works in conjunction with a two-stage hydrostatic transmission providing working speeds of 0-10 km / h or 0-20 km / h. With standard four-wheel drive and 100% locking differentials on each axle, traction is never an issue, while reliability is ensured through the use of 16-ton axles with gear reduction packages. external planetary final transmission.
The two hydraulic circuits deliver 145 liters / min to the driveline, while the 78 l / min delivered to the hydraulic system means loader and implement functions are always quick and responsive.
While operating Schuler Farms, the loader has become a key part of day-to-day operation, providing versatility such as loading a mixer wagon, moving pallets, pushing a manure scraper into the feed area, handling round bales for feed and bedding, while still being useful The bucket / grapple combo comes with its own wood chips in the bread area and then cleans up, usually twice a year.
The central cab, in the raised position on the machine, offers excellent all-round visibility, with an adjustable steering column, a central information display and all key control functions integrated into the joystick / armrest controller