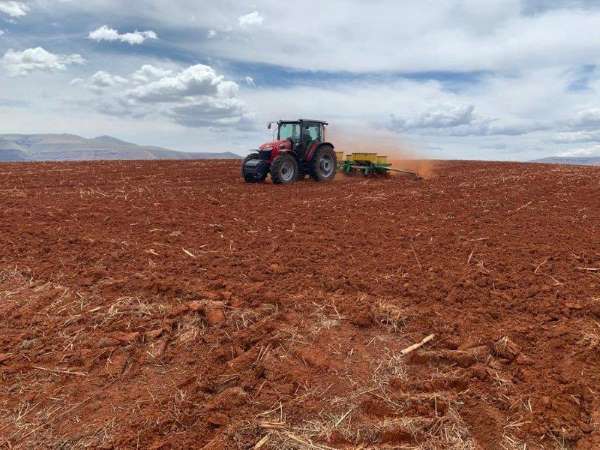 Naude Broers takes Massey Ferguson to new heights in the Naude's Neck Pass area
Brothers Donie and Stephanus Naude have a fleet of 16 MF tractors and are getting stronger every year
The Massey Ferguson brand is everywhere in South Africa where farming takes place. Nowhere is this more evident than in the Naude's Neck Pass area in the Eastern Cape. Linking Maclear to Rhodes, and at 2587m above sea level, the pass is the second highest dirt road in South Africa, based on the route taken by the intrepid Naude family in the 1890s. It is here, between Maclear and Rhodes, which the Naude Broers grow sheep and cattle, and corn alongside for their own use.
"The Naude Broers farm is probably the furthest point and in one of the most inaccessible areas of the region we serve at this point," says Michael Howel from the East London-based local MF Tractor World dealership, which has a close working relationship with its brothers donie and Stephanus Naudé. Donie's son shares a name with the brothers' father. peet represents the next generation who will take over the farm and perpetuate the MF tradition started in 1976.
With over 70 years of farming experience, Tractor World covers crops, livestock, game and dairy farming in the Eastern Cape, including Alexandria, Grahamstown, Aliwal North and Mthatha, as well as Maclear, Ugie, Dordrecht and Elliot.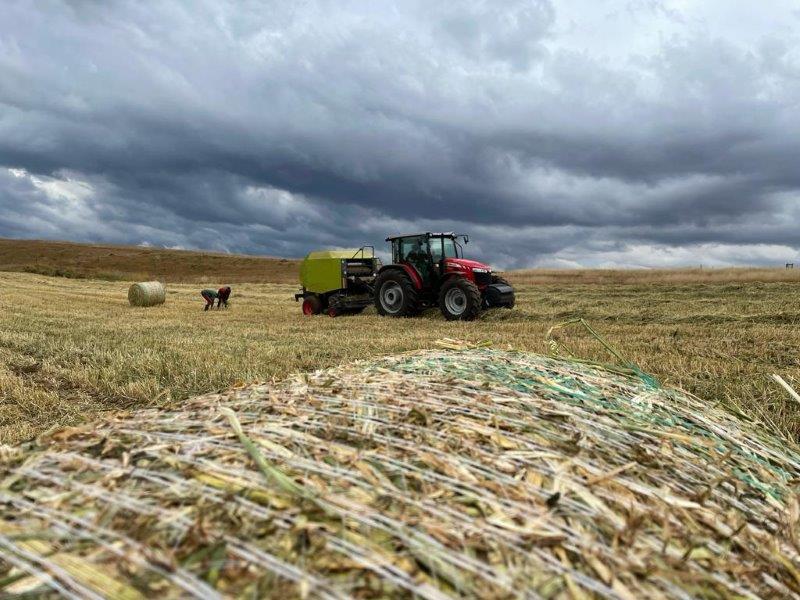 Donie points out that Michael has considerable expertise. "You can count on him to share his knowledge, which makes him one of the best dealership managers I know." In turn, working with Naude Broers is a testament to the level of customer service that Tractor World prides itself on.
In terms of delivering machines to such remote locations, Michael says Tractor World has its own low bed and 10t rollback. Not only can he carry out his own transport and delivery, in the event of a problem, but a tractor can also be collected and a replacement machine supplied when available.
"The problems don't tend to happen when the tractor is parked in the shed, but usually when it's running. In this zone, there is a specific window period, during which you must bring in your corn or other green foods. This means that no farmer can afford to have a machine idle during this critical time, so we go above and beyond to ensure all of our customers' needs are met," says Michael.
The Naude Broers farm now has a fleet of 16 MF tractors. Their favorite purchase to date was the MF 7618 (180hp) in 2016. Six years later, they are still happy with the tractor, which is on the higher horsepower side of their fleet. The MF 7618 is part of the MF 7600 Series of responsive and powerful machines designed and engineered for maximum versatility, built around MF standards of award-winning, innovative and advanced engineering.
Due to the variety of work undertaken – from animal husbandry and dairy farming to arable farming – the MF 7618 ensures that any job at hand is successful. Favorite features of the Naude Broers include superb visibility, high ground clearance and extra power when needed, in addition to the excellent stability which has proven to be a major advantage in the mountainous area where the farm is located.
The AGCO POWER Stage 2 (Tier II) four-valve common rail engine delivers the ultimate in optimum power, with the benefit of turbocharging and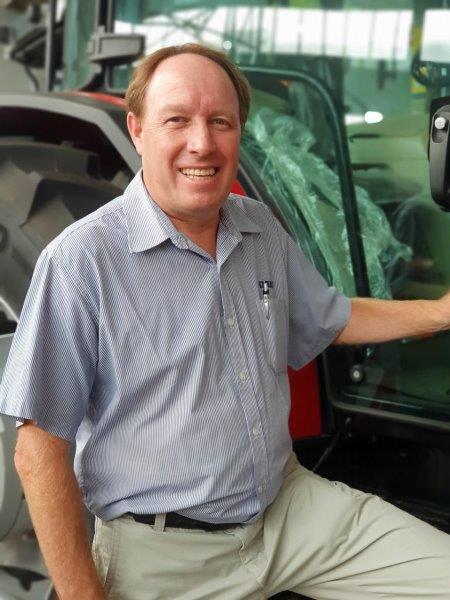 intercooling for highly efficient power and fuel economy in various applications. These Stage 2 engines have a low engine speed of 2100 rpm. At full throttle, the engine will run at 2100 rpm, with maximum power at 1950 rpm. High power and torque at low revs ensure high performance, excellent fuel economy and low engine noise, which has resulted in significant savings over the past six years for the Naude Broers.
What sets the Naude Broers apart is that their MF 7618 tractor is equipped with a Dyna-6 transmission. This ultra-reliable semi-powershift gearbox is now even more refined than what was previously available on the market. The Dyna-6 continues to offer all the essential features such as left-hand power control, automatic steering, right-hand control, adaptive speed and variable shuttle take-up. Since this model, the transmission now features Power Management for even greater fuel efficiency. The transmission has a maximum productivity of 24 forward and 24 reverse gears. An additional feature particularly useful for Naude Broers is the brake pedal pressure that puts the transmission in neutral for intensive tasks like round baling.
The Naude Broers note that MF has always been an industry leader when it comes to hydraulics and rear linkage control. Massey Ferguson's digital Electronic Lift Control (ELC) system offers the highest standards of draft control, with very precise depth settings and improved ground contour following. "This resulted in more weight transfer, better traction, less wheel spin, reduced tire wear and reduced fuel consumption, all while maintaining excellent efficiency, which adds to the bottom line at the end of the day," notes Michael.
The shape of the cabin provides the operator with good all-round visibility. The combination of the positioning of the exhaust, the angled design of the bonnet and the large glass surfaces allows an exceptional 360° field of vision. A clear view from the rear window ensures an unobstructed view of attached operational tools for a safe working environment.
The comfortable, fully adjustable seat provides enough room to work all day without getting tired, improving operator productivity when working long hours in the tractor. For more comfort, air conditioning is available as an option on the MF 7600 series, for which the Naude Broers have opted. "The air conditioning was a blessing for us on those hot summer days in the Eastern Cape," they comment.
Finally, the efficient cabin package supplied as standard with the Naude Broers MF 7618 consists of the dashboard control center with control armrest and "T" lever, offering the choice of using the spool valves of fingertip control or multi-function joystick controls. "The most frequently used controls are grouped together in one place, making it easier to use thanks to smart ergonomics," says Michael.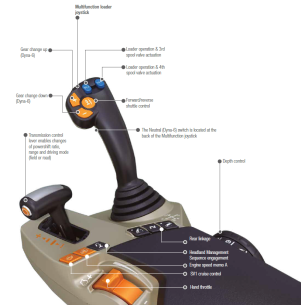 AGCO now has the ASK (AGCO Sales Configurator) system to allow dealers to fully customize a tractor's configuration. This allows the customer to sit down with an AGCO dealer and specify their next high-horsepower tractor down to the smallest detail, including oil flow rates, color and even cab configurations. "When Naude Broers orders their next high-horsepower tractor, we'll be delighted to show them how versatile the system is by giving them exactly what they want," says Michael.
Naude Broers has been doing business with Tractor World since 2003 for all of its tractor and implement needs. "Our relationship spans over 18 years to date, which is a testament to its continued success and our satisfaction with the service and support provided," says Donie. "I grew up with MF, as my father bought his first tractor in 1983, which we still have on the farm. From then on, we standardized the brand because we know it worked for us. »
Michael says the relationship between AGCO Africa and Tractor World is a natural partnership. "The brand is in my blood, as my father sold MF for 36 years, and I grew up with it as a child. As a result, it has always been part of our family. Quality-wise, this are exceptional machines that perform extremely well and have good resale value.As passionate as we are about our brand, we are also passionate about our customers.Naude Broers represents the kind of brand loyalty that MF tends to instill in the farming community, and we are privileged to continue to work with them.
This year, Massey Ferguson, a global brand of AGCO (NYSE: AGCO), is thrilled to announce a new look for its iconic Triple Triangle logo and new 'Born to Farm' brand identity to celebrate its 175th anniversary. MF has been providing farmers around the world with simple and reliable machines since its inception. Few global brands can claim such a lasting impact in the agricultural industry.
To support the farming community, Massey Ferguson has an extensive network of over 35 dealerships covering the whole of South Africa, providing parts, service, aftersales and new sales. Potential customers interested in the MF range can obtain all information from www.masseyferguson.co.za. After filling in the contact form, potential customers will receive the dealer's video, brochure and contact details on their WhatsApp and email within 30 seconds.