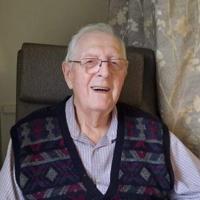 Rexford C. Russell, 92 | Obituary
A life well lived is a precious gift of hope, strength and grace. From someone who made our world a brighter and better place ~ Rexford C. Russell, 92, of Orwell Twp., Pa., died Wednesday evening March 30, 2022 at Robert Packer Hospital in Sayre. "Rex", as his family and friends affectionately called him, was born on November 9, 1929 in Elmira, NY. He was the son of the late Cleveland and the late Irene (Cron) Russell. Rex spent his childhood in Orwell and at the age of six he was guided by his father into the woods and introduced to the maple syrup trade. Over the years the company has grown into a sixth generation company known as Endless Mountains Cabin Maple Syrup. Rex attended a one-room school in Orwell and later graduated from the Rome High School class of 1947. Farming was also a way of life for Rex, many will remember him as their corn vendor or maintenance of their Massey Ferguson tractors. Rex loved spending time outdoors, he loved the beauty of the land and enjoyed hunting. He was a member of the Orwell Bible Church where at one time he served as a trustee. Rex loved to sing and his baritone voice could be heard across the room and could brighten anyone's day. He was a member of the Towanda Rotary, the Roman Masonic lodge and played in many bowling leagues in the region.
Rex will be sadly missed by his wife of nearly 29 years, Janet Benjamin Russell; his children: Nancy Russell, Sheila Russell (Terry Cobb), Marilyn Russell (Richard Boyd) Lincoln (Dawn) Russell, Ray (Diane) Hotaling, Lynn Edelman, Lisa Kornacki. His sister Margie Newton; special grandchildren: Brian Wacker, Elizabeth Wacker, Chad Russell, Jennifer (Kevin) Pardoe-Maines, Todd (Janette) Pardoe, Matthew (Alycia) Pardoe, Lauren Boyd, William Russell, Danielle Russell, Katherine Lindemann, Kalen Lindemann, Elise (Michael) Salsman, Britney Kornacki, Joseph Kornacki. Several great-grandchildren. A niece Renee' (Rob) Broschart and her family; a nephew Ralph (Jennifer) Newton and his family. He was predeceased by his parents; a son Larry Russell; great-grandson Andrew Pardoe, son-in-law: John Wacker, brothers-in-law: David Benjamin, Arden Newton; sister-in-law: Dolores Tillotson.
Family and friends are invited to attend a visitation on Saturday, April 2 from 6 to 8 p.m. at Sutfin Funeral Chapel, 273 S. Main St., Nichols. A funeral service and celebration of life for Rex will be held on Sunday, April 3 at 2 p.m. at the funeral chapel. A private burial service will be held Monday at Orwell Valley Cemetery. Memories and condolences may be shared by visiting his guestbook at www.sutfinfuneralchapel.com Those wishing may consider a memorial contribution to Orwell Bible Church, 1749 Orwell Hill Rd. Rome, PA 18837, HOPS Ambulance, 6185 Herrickville Rd., Wyalusing, PA 18853, or the Rome Fire Dept., PO Box 77, Rome, PA 18837 in loving memory of Rexford C. Russell.