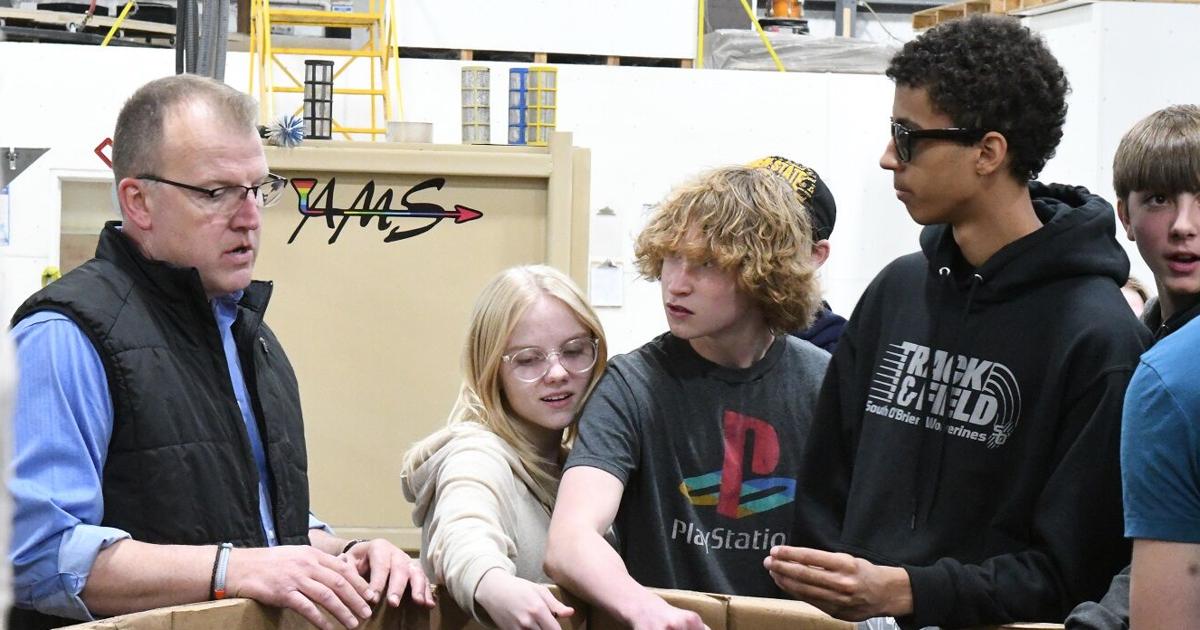 South O'Brien students explore businesses | News
REGIONAL—Rich Frerk was a junior at South O'Brien High School in 1993 when he started working at what would become AgriVision's Paullina location.
Frerk returned to former Greenway Implement equipment and service provider John Deere in 2018 to become a store manager and has worked in that capacity ever since.
"I'm giving you this information so you can see where you can start in the dealership world and where you can build," Frerk told a group of about 20 South O'Brien sophomores who visited the school. company on Friday, April 29, during O'Brien County's annual Career Day.
The Paullina Company was one of four companies in the county that the students visited that morning as part of the day-long program to educate high school students about career opportunities close to home.
The group of Wolverines also made stops at Mill Creek Machining in Paullina, DK Plastics in Archer and Ziegler CAT in Sheldon.
After graduating from high school in 1994, Frerk attended a John Deere trade school for two years, then worked at the former Greenway Implement site in downtown Paullina, where he eventually became manager of service.
When the company grew to include five locations, Frerk became the director of corporate services for them. He remained in this role until 2015, when he took on a position as a store manager for Ziegler CAT.
Frerk noted how AgriVision's growth has continued over the years — the dealership has more than 30 locations in the Midwest.
The service radius of the Paullina store is about 75 miles and employs about 34 workers. Employees include a team of technicians, parts people, sales people, service managers, and Frerk who oversees it all.
He also explained how AgriVision plays an important role in helping farmers plant their spring crops in a timely manner.
"We have a time to get it right. If we mess it up, we can watch that mess all year round, so we want to make sure we put it in the ground and we do it right so that at the end of the year we have a good harvest," , said Frerk.
In addition to providing farmers with the equipment they need in the field, AgriVision also has a service department where technicians repair machines for customers. During the facility tour, Frerk pointed out a piece of service equipment being repaired for a customer.
"When it's all said and done, we'll put everything back in place, do all our checks and she'll be ready to go back to customers," he said.
AgriVision workers, meanwhile, can earn salaries ranging from $50,000 a year to $150,000 to $200,000 depending on their position and how long they stay with the company, according to Frerk.
"If you want to be a tech today, we have a tech payback program where you basically get out of school debt-free, and maybe even put a little extra coin in your pocket right out of school," he said.
Andy Jacobs, branch manager of Ziegler CAT in Sheldon, also spoke to the students about compensation opportunities at the heavy equipment dealership.
A technician trainee, for example, would start making $19 per hour while any full-time position would start at around $50,000 per year. Jacobs said salaries will only increase with time and expertise.
"And they're doing something they love," Jacobs said. "That's the biggest key I can tell you, if you have a passion for something, find that passion. A company will find where they can use that so you can be successful.
Although the world of heavy equipment mechanics is male-dominated, Jacobs noted that Ziegler CAT has seen a growing trend of women filling technician positions.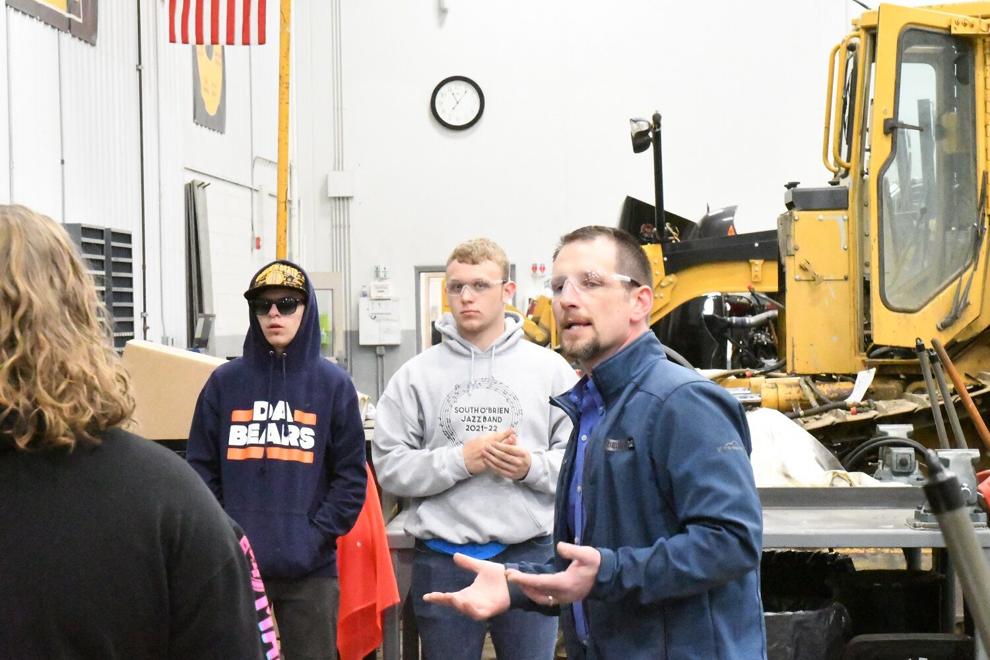 "We've seen a lot of success with women in the workplace, whether they're technicians or supervisors, dispatchers," he said.
During the tour of Mill Creek Machining and DK Plastics, sophomores got to experience first-hand the precision machining and manufacturing technology that companies use in their day-to-day work.
Mill Creek Machining was founded in 2001 by Justin Stamer and has since grown to include a secondary location in Spencer.
The company is part of the umbrella group Consolidated Machine & Tool, which specializes in precision machining, manufacturing and assembly of highly technical components. It manufactures parts for many fields, including aerospace, defence, military, industrial and medical.
Meanwhile, DK Plastics manufactures thick plastic sheets and manufactures a variety of products from them, including trash can lids, grain chutes, panels, molds and more.
Scott De Kok, the company's chief executive, said the company's plastic sheets are also sold to other manufacturers or distributors for other uses such as synthetic ice rinks.
"We got our plastic in the Disney movies. If you've seen the movie, 'Noel' – it's a Christmas thing and they skate on our plastic," De Kok said.
The business started in 1995 in downtown Archer then expanded to a second site just west of town in 2007, which serves as the company's headquarters. The company added 10,000 square feet of additional space to the downtown site in 2019.
This story first appeared in the May 7, 2022 print edition of The South O'Brien Sun.