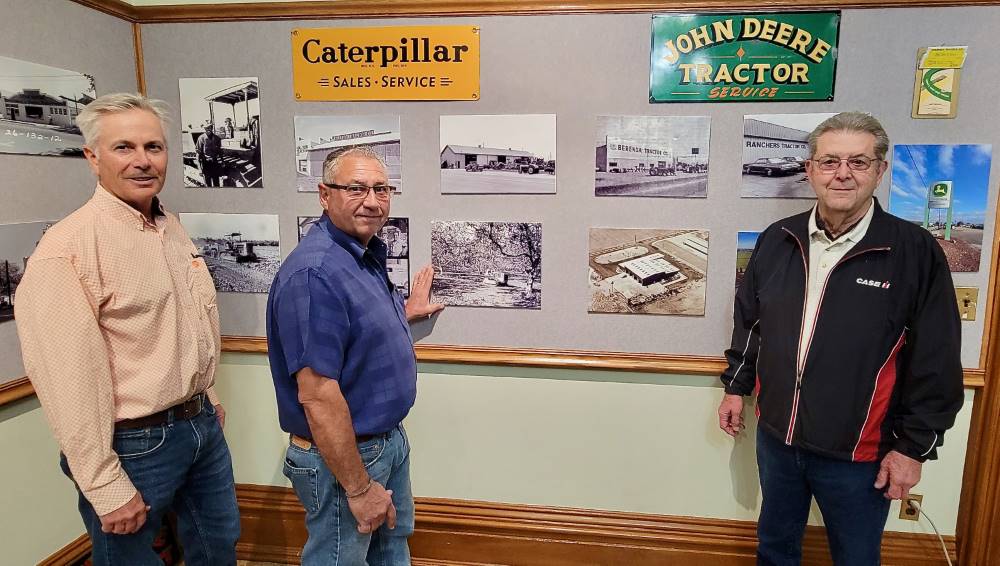 The new exhibit has had a hell of a ride — Merced County Times
Shannon Tractor and Pump Company, an Allis-Chalmers dealership, was founded in 1947 by Ralph Shannon, who came to Merced in the 1940s to manage the Peerless Pump on 16th Street. Shannon later served as mayor of Merced (1965-1969).
A large Gaestel Tractor and Implement Company display at the 1946 Merced County Fair.
Tom Roduner, Joe Scoto and Bob Souza were the local historians and tractor enthusiasts behind the new exhibit at the Merced County Courthouse Museum.
Jack Shipley of Bohn and Shipley in Merced, 1950-51.
When Tom Roduner and Joe Scoto were inspired by the history of tractor dealerships in this great farming region and somehow came up with the idea of ​​putting on a museum exhibit, they already thought they knew a lot about the subject.
Then they were surprised, maybe a little frustrated, but still determined to find out more, and finally, to do it.
Now, after more than three years of research, finding vintage exhibits, putting it all together, and then COVID delays, their work will come to fruition this Saturday with the opening of "Tractor Dealerships in Merced County." at the Courthouse Museum in downtown Merced.
And it's going to open with a bang at 11:30 a.m. Prepare to see some 20-30 tractors – from one-off antique models to modern giants – zip through town and fill N Street which leads to the courthouse no.
Expect plenty of activity around the surrounding park, with owners ready to explain the details of their machines, while Jim Cunningham and his team of volunteers prepare free hot dogs for everyone. It will be a community party, so bring your lawn chairs and picnic blankets.
In fact, the Merced County Historical Society will take advantage of the day to hold its annual membership meeting and awards ceremony at noon. After that there will be discussions of the history of local tractor dealerships, including stories of Jack Gallagher of Merced whose father owned Gallagher Tractor, one of the first Harvester-McCormick dealerships in town in the late 1900s. 1930s and 1940s. Plus, longtime West Side farmer David Santos is expected to stir up some memories with his family experiences.
When residents and visitors enter the exhibit inside the museum, they will be treated to a fascinating exhibit that examines how the evolution of tractors has shaped agriculture in the Central Valley – from walking plows to smart tractors .
The exhibit begins in 1837 when John Deer invented his famous saw blade and developed the mobile steel plow, then follows the invention of the first steam-powered tractor in 1868, and 1892 when the first gasoline-powered Case tractor was built.
Developments that one would take for granted today – including the idea of ​​finally replacing horse and mule teams with much more efficient tractors, and the introduction of things like rubber tires and the " three-point hitch" for hooking up the plows – helped develop a network of dealers that kept farming at the forefront of the county's industry.
"When I start looking at the photos from this exhibit, I just think, 'Wow, we've really come a long way,'" says Bob Souza of the Historical Society. "It shows you how we used to farm and grow food back then, and what we had to work with."
Souza laughs when he remarks, "Those early tractors were $250 and today's tractors are $500,000, or whatever. Now they have GPS technology, and some are even considered autonomous vehicles.
The Historical Society and the Courthouse Museum can thank Roduner and Scoto for creating the exhibit from start to finish. Both are members of the Society and both belong to local farming families that go back generations.
It all started a few years ago when the director of the museum, Sarah Lim, wondered about the theme of the image she was going to put on the annual calendar of the Historical Society which is sent out every January. She had done car dealerships before, so Roduner suggested she consider tractor dealerships.
"I started talking to Joe [Scoto] because we both love history, tractors and all that," says Roduner. "We were ready to help him. We knew the basics, so we started researching information and looking for photos. »
That's when Scoto started talking about something much bigger.
"I have a bunch of old directories and memorabilia," he says. "I've always been interested in collecting these things. I went through my old telephone books and Polk directories from the early 1900s. And compiled the first list of dealerships. And once we had the list, I was like, 'oh my god.' …Pretty quickly we were saying why not have an exhibition.
Roduner adds: "You know, I grew up on a farm when I was a kid. My dad took me to Merced, and I remember many of those dealerships. But there are some in this exhibition that existed in my time, and I didn't even know they existed.
Through research also supported by Augie Scoto and Ric Kirby, the team ended up with a list of 92 tractor and implement dealers who have operated in Merced County from 1885 to the present.
According to the exhibit, "These early dealers were more than just businesses, they were community centers where farmers, dealers, salespeople and mechanics formed close bonds."
The only problem for the research project was the lack of historical photos and the presence of direct storytellers.
According to Roduner and Scoto, there simply weren't many images that depicted the actual dealers in the area. Farmers and owners never really bothered to take many pictures of the industry itself. It wasn't a thing back then for farmers to have their picture taken with a brand new tractor at the dealership.
The two scholars also said they regretted not recording a specific story or doing the exposition earlier, as they knew many more modern merchants when they were younger, but many died. And it's hard to find family members who have preserved memories.
Sadly, Jerry Shannon passed away in 2020 and surely he would have been a big help with the exhibit. His father, Ralph Shannon, founded Shannon Tractor and Pump Company, an Allis-Chalmers dealership, in Merced in 1947. Interestingly, a memorial for Shannon is held on Saturday, the same day the show opens. (See page 3 of this edition.)
Another challenge in setting up the exhibit was the COVID-19 pandemic of the past two years. The exhibition was originally scheduled for March 2021, but has suffered several delays.
Despite the difficulties, Scoto had many items in his collection to donate to the show. His favorite — representing the pre-tractor technology — is visible at the entrance to the exhibition, in a window. This is a vendor's sample of a plow – a tiny version that is an exact, scaled-down working model of the much larger actual plow.
According to Scoto, "The salesman would conveniently come to your farm with the sample because he couldn't afford the inventory. If the farmer liked the design and function, he ordered the plow delivered. »
As for Roduner, he brings an old tractor "that they no longer make" to the opening day. It's a vintage Ferguson – before they made Massey-Ferguson models – from the early 1950s.
"It was the first tractor I learned to drive," he says. "Many farmers kept their old tractors. For some, it was sentimental. Others thought it was bad luck to let them go.
The "Tractor Dealerships in Merced County" exhibit will run through June 5. For more information, contact the Courthouse Museum at (209) 723-2401. Admission to the event is free.