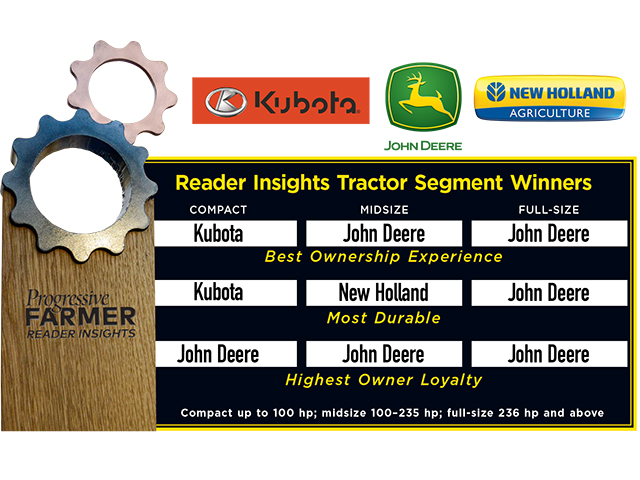 Tractor owners choose their favorite brands
READER-BASED RESULTS
"When today's farmers and ranchers need to make a purchase essential to their day-to-day operations, having independent tractor reviews from their peers builds trust," says George Owens, President and principal consultant at SOCAL Approach Marketing and Consulting Group. "Having access to feedback from other farmers and ranchers using the same equipment is essential for making informed purchasing decisions. "
The SOCAL approach uses information based on data and user experiences with well-known brands to provide the results of this survey, which gathered 7,755 tractor reviews from 2,262 farmers, mostly, or about 3 , 5 evaluations per person.
Sixty-one percent of owners farm more than 500 acres of land, 4 percent farm 5,000 acres or more. Almost 60% of respondents rent land. Corn and soybeans are the two most common crops managed by survey respondents. Two-thirds of respondents say they run an agribusiness full time.
Here are the results and details of this Reader Insights survey:
– 72% of all tractors were acquired from a dealer, 19% through a private party, 9% at auction.
– 60% of all tractors were purchased in cash, with most of the rest financed.
– The importance of both the concessionaire and his proximity to a farmer's holding becomes more and more important as the tractor gets bigger.
– Self-maintenance of a tractor was a primary consideration in 66% of all tractor acquisitions.
– The ownership experience includes six factors: brand reputation, reliability / durability, repairability, ease of use, cost of ownership and resale value. Of the six attributes, ease of use is highest among respondents, with reliability / durability and repairability all above average.
– Sustainability includes 13 problem areas. Among them are engine performance, lighting / electricity, fuel system, comfort / seat adjustment, advanced technology and drivetrain. Of all the tractors reviewed, the top issues identified by readers include HVAC, battery, and lighting / electrical. Hydraulics / hitch, comfort / seat adjustment and drivetrain wear / tear are also often reported.
Among small tractors, the main issues are battery, lighting / electricity, and comfort / seat adjustment. Among mid-size tractors, readers rated HVAC, battery, and lighting / electricity as the top issues. Among large tractor owners, the main issues reported in this survey included wear / tear on the HVAC, hydraulics / hitch, battery and transmission.
– Owner's reliability is based on three different factors: likelihood of recommending a brand of tractor to others; probability of buying another tractor of the same brand; probability of purchasing a product of the same brand. Respondents would recommend their tractor brand for almost two-thirds (65%) of the tractors surveyed. But this is more true for large tractors than for small tractors.
– The Readership Insights survey asked tractor owners about their most durable tractor brands, measured by issues per unit. The top five brands (in order) with the fewest problems reported by respondents are Kubota, Case IH, John Deere, New Holland and Massey Ferguson. The average number of problems per unit for all brands was 1.21.
– The best overall brands according to respondents are (in order) Kubota, John Deere, New Holland, Case IH and Versatile.
– Interestingly, less than half of all tractors received top marks in all areas for all three loyalty metrics (recommend brand, would buy another tractor of the same brand, would buy any product of the same brand).
Follow Dan on Twitter @DMillerPF
(c) Copyright 2022 DTN, LLC. All rights reserved.